What's Janet Up To?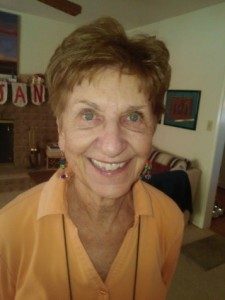 Janet Larkin, Community Action/Public Policy Chair
AAUW Scottsdale (AZ) Branch
Janet Larkin is currently following:

Celebrating the 19th Amendment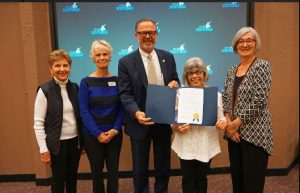 Janet Larkin, Jennifer Quinn. Scottsdale Mayor Jim Lane, Joan Gold, Anita Zastrow (02/17/20)
Fountain Hills Mayor Ginny Dickey, Karen Ramos, Mary Schuh (02/17/20)
---
100 Years of Women getting the Vote
Throughout the year 2020 we will be celebrating the 19th Amendment in a variety of ways.  The Amendment reads: "The right of citizens of the United States to vote shall not be denied or abridged by the United States or by any State on account of sex."  The amendment is important, though many lawmakers feared that women would vote in large groups, which would affect the outcome of elections!  Well!!
In our early history when women were denied the right to own property and had no legal claim to any money they might earn or the right to vote, a group of women met in Seneca Falls, New York, in 1848.   The demand for the vote was the centerpiece of the women's rights movement.  Elizabeth Cady Stanton, Lucretia Mott, Susan B Anthony and other activists raised public awareness and lobbied the government to grant voting rights to women.  Thirty-six states had to ratify the 19th amendment.  Arizona voted to ratify on February 12, 1920.  It was passed by Congress June 4, 1919 and ratified on August 18, 1920.
Sadly, voter suppression today is going on throughout the country, including 11 bills that have already been presented in our Legislature.  Again, we have to be watching, fighting and marching I guess!  Write and call your legislators to make your voices heard!   Read more and where to celebrate and visit exhibits, click  Celebrating the 19th Amendment  
---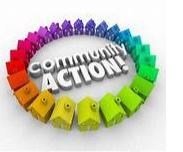 For Community Action and Public Policy meetings please click this link Contact Scottsdale Board of Directors and send Janet a direct communication.
Also,  check the current month under Special Interest Groups & Branch Activities  or upcoming meetings and events click under Newsletters
---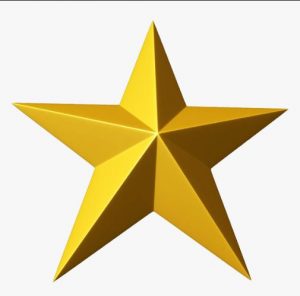 AAUW was again well represented at the 2020 AAUW Legislation.  Mentorship was provided and extended to those members wanting to register for "Request to Speak". 
       Click Newsletters to read more in the March edition on the events and accomplishments 02/04/20 Legislative Day.
Below is a group picture from the 2019 AAUW Arizona Legislative Day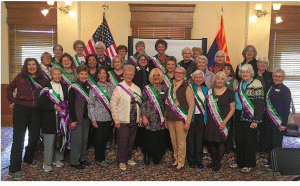 ---
Two-Minute Activist
AAUW has been empowering women as individuals and as a community since 1881. For more than 130 years, we have worked together as a national grassroots organization to improve the lives of millions of women and their families. AAUW has a strong presence in Washington, D.C.
If you wonder what you can do as one individual in these uncertain times, you can add your voice when it's time for our AAUW advocates in Washington D.C. to speak out for all of us. Sign up for Two-Minute Activist online. This will take you directly to the Take Action page on the AAUW website; scroll down to the Sign Up button and enter your email. You'll receive email alerts and with just a touch of the "Take Action Now" button, you will be sending letters on issues impacting women and girls to your representative and our two Senators. They will all know you are contacting them as a member of AAUW. And it really takes no more than 2 minutes.